Garmin Astro 320 With T5 Collar
$599.00
Description
Size Guide
Reviews (0)
Description
***NEW FEATURES***

Compatible with: tracking Astro T5 and DC Series collars AND the  Alpha TT15 collars (TT 15 collars must be set to Astro mode and do not offer e-collar functions)
LED Beacon Lights is built into the collar for additional visibility
Astro has an Orange Top Mounted GPS Receiver, making it stand out among the competition and making it different looking than the TT 15 Track and Train collar.
Take your dog hunting and don't worry about losing your favorite hunting companion again!  This Unit includes the newest, upgraded Astro 320 handheld.  This is a top-mounted, high-sensitivity GPS enabled dog tracking system for sporting dogs. Track your dog's every position and know exactly where he is at all times, even when you can't see or hear him.  In addition, there is a new and improved T5 transmitter collar!
The Garmin Astro system includes a bright color-screen handheld GPS device and a durable and rugged, orange polyurethane T5 collar.  The collar strap accommodates most e-collar receivers — so just slip your compatible e-collar receiver right over the T5 strap and eliminate the need to put two separate collars on your dog.
Plus, prevent others from seeing your dog's whereabouts with a special feature called the Collar Lock.  The Collar Lock creates a four-digit PIN number for your unit — this is a useful feature in field trials to ensure that an Astro is used only as a recovery tool when a dog in competition becomes lost.
Quick and Easy Set-Up to this unit.  To get started, just take Astro outdoors and turn on the handheld and transmitter to acquire GPS satellite signals. Then attach the T5 to your dog. Now you're ready to turn him loose — no other setup required!
Track Dogs in Dense Cover
As often as every five seconds, your dog's T5 transmits his position to your Astro 320 handheld. On the Map page of your handheld, you can track your dog's every location.  Switch over to the Dog Tracker page to view a compass pointing to your dog's location as well as his current status: view whether he's running, sitting, on point or treeing quarry. The new three-axis electronic compass (available only on the Astro 320) lets hunters accurately view their dog's position when holding the handheld at any angle.
When your dog goes on point, Astro can sound an alarm to notify you. In addition to audible alerts, Garmin has also incorporated a new vibration feature on the Astro 320. Astro boasts a high-sensitivity GPS receiver that can track your dog's position even in the thickest of covers.
Using the Astro's Covey Counter™, a special waypoint tells you the exact location, time of day and elevation where you found your prey, as well as the number of birds you flushed and took from that location. Mark special waypoints, such as "Truck" and "Lodge," so you can save the location of these places quickly and easily for each hunt. Astro also offers special waypoint icons to represent food plots, tree stands and other hunting-related points.
Don't ever get lost in the woods again!  The Astro will lead you back to your truck at the end of the day, or even back home again. In fact, the Astro handheld has all the features of Garmin's top-line handheld outdoor devices, including a barometric altimeter, 3-axis electronic compass, microSD card slot, celestial information, area calculator and rugged, IPX7 waterproof exterior.
With optional detailed city street maps, you can search for over 6 million points of interest and create a route on roads with exact turn-by-turn directions.
Astro 320 Enhancements:
The Astro 320 improves user interface with a simpler menu structure and sophisticated graphics thanks to its vibrant, sunlight-readable 2.6" color display.
The 320 features a built-in worldwide basemap with shaded relief, plus support for enhanced mapping such as BirdsEye™ satellite imagery, Topo maps, and Garmin custom maps.
With an optional BirdsEye Satellite Imagery subscription, hunters can pinpoint buildings, powerlines, and even individual trees – directly on their Astro 320. Garmin's free BaseCamp software allows hunters and trainers to download, view and save their dog's tracks to a computer for viewing later – a great tool for evaluating performance.
This sturdy, well-made, tough handheld also has a built-in vibration motor to support silent alerts, a 3-axis digital compass (allowing the hunter to hold the handheld at any angle), improved reception range, a fully rubberized outer coating with an over molding for a better grip, a new keyboard design, and onboard memory for storing additional mapping (1.7 Gigs).
The new handheld also features a safety keypad lock so buttons aren't accidentally pushed during the hunt. It sports an orange trim color that is especially handy for hunters to spot the unit if it falls out of your pocket or bag during a hunt or is simply misplaced.  This unit has the ability to transfer waypoints, tracks, and even their dog's tracking settings to other Garmin Astro320 users wirelessly.
Click here for the Garmin Astro T5 Additional Collar.
Features of the T5 collar:
Top mounted high-sensitivity, GLONASS-enabled GPS receiver
T5 Collar is a GPS TRACKING COLLAR only
Tracks up to 10 dogs
Beacon Lights for added visibility
Compatible to the Alpha 100 (tracking function only) and the Astro 320
Durable Steel VHF braided antenna (length – 21.5") – provides 9 mile range
GPS Receiver Antenna is now located to the top of the dog's neck (like the older DC-30)
Bark Detection – Astro 320 handheld indicates dog's barks
Improved charging cradle – now attached to the cord so it cannot be lost!
Replaceable 1″ wide collar strap – durable polyurethane-coated nylon with nickel-plated square buckle and collar
Collar strap fits necks 13″ to 22″
Bundled dog devices (Astro 320/T5) ships with orange collar strap
Bigger GPS Collar Battery – 4 hr. extended run time
               25 hrs. with 5 second update rate
               35 hrs. with 10 second update rate
               40 hrs. with 30 second update rate
               52 hrs. with 120 second update rate
Accessory dog device (T5 sold as standalone) ships with a blue collar strap
Slip through, Replaceable Collar strap
Long Range Collar Antenna- provides additional range for big running dogs
USB Port on Collar allowing for software updates when you plug the collar into computer and easily export hunting data
Weight: 9.3 oz.
T5 Software Offers:
Bark Detection Mode: Helps you figure out when your dog is on the birds
Rescue Mode: will automatically start up when at 25% to save on your battery life
Basecamp Live Laptop Tracking: Make tracking a snap with a bigger screen
Easy to change your dog's ICON color
Not compatible with the Astro 220 handheld.
The FREE software download can be performed at https://buypub.garmin.com/en-US/US/prod123012.html
System Includes:
Astro 320 handheld
T5 wireless transmitter collar with Orange Strap
AC Adapter
Vehicle Charging Adapter
Charging Cable
USB cable
Belt clip
5.0″ standard antenna for the Astro (short stub antenna)
13.0″ long range antenna for the Garmin Astro 320
18.5″ standard antenna with Braided Steel VHF
22.5″ long range antenna with Braided Steel VHF
Owner's manual
One Year Warranty
One Year Consumer Limited Warranty:
Our non-aviation products are warranted to be free from defects in materials or workmanship for 1 year from the date of purchase. Within this period, Garmin will, at its sole option, repair or replace any components that fail in normal use. Such repairs or replacement will be made at no charge to the customer for parts or labor, provided the customer shall be responsible for any transportation cost.  This warranty does not apply to: (i) cosmetic damage, such as scratches, nicks and dents; (ii) consumable parts, such as batteries, unless product damage has occurred due to a defect in materials or workmanship; (iii) damage caused by accident, abuse, misuse, water, flood, fire, or other acts of nature or external causes; (iv) damage caused by service performed by anyone who is not an authorized service provider of Garmin; (v) damage to a product that has been modified or altered without the written permission of Garmin; or (vi) damage to a product that has been connected to power and/or data cables that are not supplied by Garmin. In addition, Garmin reserves the right to refuse warranty claims against products or services that are obtained and/or used in contravention of the laws of any country.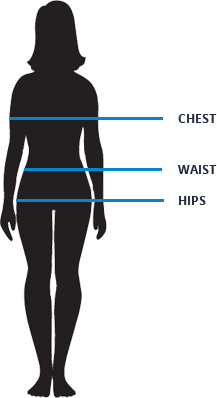 | size | chest(in.) | waist(in.) | hips(in.) |
| --- | --- | --- | --- |
| XS | 34-36 | 27-29 | 34.5-36.5 |
| S | 36-38 | 29-31 | 36.5-38.5 |
| M | 38-40 | 31-33 | 38.5-40.5 |
| L | 40-42 | 33-36 | 40.5-43.5 |
| XL | 42-45 | 36-40 | 43.5-47.5 |
| XXL | 45-48 | 40-44 | 47.5-51.5 |